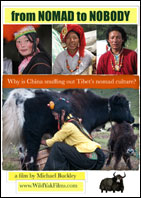 From NOMAD to NOBODY
a personal take on the vanishing nomads of Tibet
a film by Michael Buckley
HD 16:9 colour, stereo
producer: Petr Sevcik
post-production in Canada, 2011
release date: October 2011
This documentary has been cut to two lengths:
a long version at just under 55 minutes
a short version at just under 15 minutes
Locations
From Nomad to Nobody was filmed mainly in the Kham region of eastern Tibet, using a small hand-held HD videocam to keep a low profile. The mountainous Kham region is home to the hard-headed Khampa nomads, famed for their bravery and bravado, for their horsemanship, and for their fierce sense of independence. The first part of the documentary takes in the action at several horse-racing festivals near Litang, in Kham. Other locations in the documentary include central Tibet, Kathmandu (Nepal) and Dharamsala (northwest India).
Storyline:
From Nomad to Nobody
Motivated by previous travels to Tibet, the narrator sets off on a personal quest, focusing on the fast-disappearing Tibetan nomad culture. Why are the nomads being forcibly relocated by Chinese officials? Why are they are being shifted off their traditional grazing lands into concrete ghettos? In these settlement camps, nomads are marginalised and have little chance of making a decent living, or finding a new profession. Previously, when grazing yaks, they were self-sufficient and lived in an entirely sustainable way. Now, they are unemployed, and dependent on the Chinese government for hand-outs—and for food.
Between 1995 and 2015, official Chinese policy has targeted the removal of more than two million Tibetan nomads from their land for settlement. In an era where sustainability is the mantra, Chinese policy makes no sense. This re-settlement policy is designed to wipe out nomad culture and its strong connections to traditional Tibetan values. Nomads are the stewards of the vast grasslands of Tibet—they have been grazing these lands with their yaks for close on 4,000 years. Without the nomads, the grasslands (already affected by climate change) will further deteriorate and turn into desert. This could have global impact, as these grasslands constitute an important carbon sink.
What are the motives behind China's forcible settlement of Tibetan nomads on such a huge scale? Why are Chinese mining and dam-building companies moving into the same grassland regions? What happens to nomads after shifting to a semi-urban environment? What happens if they try to mount protests? What does the future hold for the vast grasslands of Tibet? These are questions the documentary sets out to explore, in this personal take on the plight of Tibetan nomads.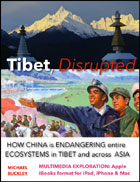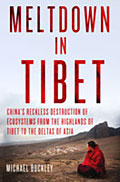 Filmmaker: Michael Buckley has long been involved in research on Tibet, with a number of published books (see www.himmies.com). In recent years, he has turned his attention to making short documentaries about major environmental problems in Tibet and how they impact Asia — highlighting issues that go unreported or under-reported in Western media. He is author of the book Meltdown in Tibet (Palgrave-Macmillan, NY).


facebook.com/MeltdowninTibet
Michael Buckley contact: himmies757 (at) gmail.com
Producer & Google Earth Pilot: Petr Sevcik grew up in Czechoslovakia, where he studied electronics and automation—and was involved in the underground art movement. Since moving to Canada, he has expanded his involvement with photography, filmmaking, and experimenting with sound. He has produced and directed a number of short films. Petr created the Google Earth flyovers for Plundering Tibet.
Awards: From Nomad to Nobody



Best Documentary Short — Golden Palm Award, Mexico International Film Festival, April 2012
Best Environmental Film — Colorado Film Festival, USA, 2012
Best Foreign Documentary — Lone Pine Short FF, California, USA, 2012
Best in Cinematography — Third World Indie FF, California, USA, 2012
Best Environmental Film — Yosemite Film Festival, USA, 2012
Seven Summits Award — Mountain/Environmental Competition, Mountain Film Awards, California, USA, 2012
Award of Excellence — Documentary Competition, Canada International Film Festival, 2012
Silver Award — Documentary Film Competition, California Film Awards, USA, 2011
Bronze Award — Documentary Competition, Oregon Film Awards, USA, 2011
Award for Music & Cultural Education — Montana CINE Film Festival, USA, 2012
From Nomad to Nobody has been selected for screening at more than 30 film festivals giving exposure to independent filmmakers with low-budget productions. Festival screenings for the short documentary include: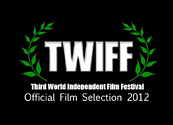 Jaipur International Film Festival, India
January 30–February 3, 2013: promoting exchange of ideas and culture between India and other nations. Takes place in the pink city of Jaipur, in Rajasthan, NW India.
European Film Festival
November 2012–January 2013: indie film festival screening in 7 cities across Europe. Screenings mostly liaise with university film clubs. Screenings for Nomad to Nobody: Pushkin Institute Cinema Club, Moscow, Russia, Jan 7, 2013; Uppsala Biografstaden, Sweden, Dec 10, 2012; Shortwave Films, London, UK, Nov 16, 2012; Southern Westphalia University, Dusseldorf, Germany, Dec 2, 2012; New Star Art Cinema, Athens, Greece, Nov 15, 2012; L'etoile du Cinema, Nice, France, Nov 22, 2012; Turku University's Student Biograf, Finland, Oct 23, 2012.
Montana CINE International FF, Missoula, USA
October 22-28, 2012: themed around contemporary issues that affect us, from environmental to cultural. Issues that pertain to food and water, land and agriculture, indigenous rights—and even war. Screening 55-minute version of From Nomad to Nobody.
Ruby Mountain Film Festival, Nevada, USA
September 27-30, 2012
COMMFFEST, Toronto, Canada
September 21-25, 2012
Third World Indie FF, San Jose, California, USA
September 21-23, 2012: Films made by third-world filmmakers, or made about the third world, screened with a view on film as a medium for catalysing social change
Film North, Huntsville, Ontario, Canada
September 20-22, 2012
Big Bear Lake FF, California, USA
September 14-16, 2012
Docutah, Southern Utah International Film Festival, USA
September 5-9, 2012: short doc section
Oregon Independent FF, Oregon, USA
August 25-31, 2012
We Like 'Em Short FF, Oregon, USA
August 17-18, 2012
Columbia Gorge International FF, Vancouver, Washington, USA
August 15-19, 2012
New Hope FF, Pennsylvania, USA
July 9-15, 2012, screening 55-min version, From Nomad to Nobody
ReelHeART International Film Festival, Toronto, Canada
June 27-30, 2012: short documentary section
Rainier International FF, Washington, USA
June 8-10, 2012: takes place in the shadow of Mount Rainier
Green Film Festival in Seoul, Korea
May 11 + 14, 2012
* Asian premiere. GFFIS is the largest festival of its kind in South Korea.

Awareness Film, Art & Music Festival, Los Angeles, USA
May 3-6, 2012: The festival's mission is to open eyes to the world's most pressing issues
Lone Pine Short FF, California, USA
April 28, 2012
Tiburon FF, California, USA
April 23, 2012: showing 55-minute version, From Nomad to Nobody
Hearts & Minds FF, Delaware, USA
April 13-14, 2012: part of International Program screenings
RADAR Hamburg International FF, Germany
October 24-29, 2011
* European premiere of 55-minute version, From Nomad to Nobody

US PREMIERE
From Nomad to Nobody premiered at three festivals in the US during the week of October 12-16, 2011
UNSPOKEN Human Rights Film Festival, Utica, New York, October 13-15.
An annual human rights forum that combines film, art, music, and a conference into one festival. This multi-faceted forum seeks not only to give a voice to human rights violations from around the globe, but also to offer practical solutions in order to shape a better tomorrow and give hope to the future.
International Film Festival: Experience compelling stories told via a variety of both short and feature length films exposing human rights violations from around the globe — offering rare insight, perspective, and solutions to these pressing issues.
Conference: This year's Unspoken conference theme, "Many Cultures, One Community," explores the place of the arts and culture in the experience of people and peoples who have been forced from their homelands to build new lives and communities through resettlement.
Arts & Entertainment Festival: Celebrating the beauty of shared diversity through music, dance, and art from around the world. Artists, authors, poets, painters, photographers, dancers, and sculptors translate their human rights and cultural experiences in their unique and inspired ways.
Chagrin Documentary Film Festival, Ohio
October 12-16, 2011
Poppy Jasper Short Film Festival, California
October 13-16, 2011