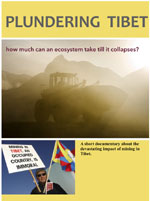 PLUNDERING TIBET
A personal take on mining in Tibet
a film by Michael Buckley
producer: Petr Sevcik
Wild Yak Films in association with ThunderHorse Media
HD 16:9 colour, Dolby stereo
Length: 24 mins 20 seconds
post-production in Canada, 2014
Trailer: https://vimeo.com/99806095 — easily embedded in any site


facebook.com/PlunderingTibet
---
Storyline:

Plundering Tibet
A personal take on mining in Tibet
How much can an ecosystem take before it collapses?
Plundering Tibet is a short documentary about the dire consequences of China's ruthless mining in Tibet. As a Canadian filmmaker, the narrator has a personal take on this because of the involvement of Canadian companies in mining in Tibet—and the railway to Lhasa. Following the arrival of the train in Tibet in 2006, large-scale mining of lithium, gold, copper, lead, crude oil, natural gas and other resources is under way to feed China's voracious industrial sector. Tibetans have vigorously protested the defilement of their sacred mountains by Chinese mining operations. None of the mining operations benefit Tibetans. In fact, mining pollutes drinking water, kills the livestock, and degrades the grasslands on which Tibetan nomads depend. A disaster of Biblical proportions is unfolding in Tibet—so big you can see it happening on Google Earth—the mines, the pollution, the environmental damage.
The environmental impact may go far beyond Tibet's borders because of rivers that run downstream to ten Asian nations—including India, Bangladesh, Thailand, Laos, Burma and Vietnam. Tibet's abundant rivers supply large quantities of both water and power for mining operations. Chinese engineers are heavily damming Tibet's mighty rivers to supply power for large-scale mining operations: the building of mega-dams will immediately affect the nations downstream.
The documentary uses undercover footage and still photography shot on location in Tibet—including cellphone footage of an anti-mining protest smuggled out of Tibet. Although some photography of mine sites was shot within Tibet, it is extremely difficult to get to mining sites due to tight security in remote locations. For mining sites in Tibet, the film uses Google Earth flyovers to show what is happening on the ground, hidden from view.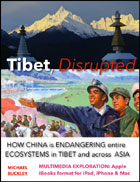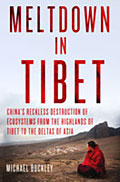 Filmmaker: Michael Buckley has long been involved in research on Tibet, with a number of published books (see www.himmies.com). In recent years, he has turned his attention to making short documentaries about major environmental problems in Tibet and how they impact Asia — highlighting issues that go unreported or under-reported in Western media. He is author of the book Meltdown in Tibet (Palgrave-Macmillan, NY).


facebook.com/MeltdowninTibet
Michael Buckley contact: himmies757 (at) gmail.com
Producer & Google Earth Pilot: Petr Sevcik grew up in Czechoslovakia, where he studied electronics and automation—and was involved in the underground art movement. Since moving to Canada, he has expanded his involvement with photography, filmmaking, and experimenting with sound. He has produced and directed a number of short films. Petr created the Google Earth flyovers for Plundering Tibet.
Awards: Plundering Tibet
Best Documentary Short — TWIFF, the World's Indie FF, San Francisco, USA, 2015
Best Documentary + Special Jury Prize — Free Spirit Film Festival, Dharamsala, India, 2014
Best Environmental Film — Indie Spirit Film Festival, Colorado Springs, USA, 2014
Best Documentary — Mumbai Shorts Film Festival, India, 2014
Gold Award — documentary & short international movie awards, Jakarta, Indonesia, 2014
Gold Award — documentary short, Oregon International Film Awards, USA, 2014
Silver Award — documentary competition, California film Awards, USA, 2014
Sir Edmund Hilary Award — Mountain Film Festival 2015, California, USA
Denali Award — Alaska International FF, 2015
Best Short Doc — Madrid International FF, 2015