Following the opening of the Golmud-Lhasa railway line in 2006, there has been a massive boom in mining operations on the Tibetan plateau. In March 2010, the Chinese government announced plans for exploiting over 110 proven varieties of minerals (with 3,000 potential mining sites) on the Tibetan plateau, worth more than US$125 billion—with large reserves of copper, chromium, gold and lithium, to mention a few minerals, as well as large oil and gas reserves. Tibetan nomads have protested new mining operations, which poison drinking water and kill herd animals. On top of this, dam-building has expanded considerably across the plateau. End result: China wants the traditional grazing lands of the Tibetan nomads—forcing them off these lands.
In 2007, at the United Nations, China voted in favour of the UN Declaration on the Rights of Indigenous Peoples. This document stipulates that indigenous peoples have the right of consent regarding "any project affecting their lands." But from Tibet to the Sudan, this principle has been flagrantly violated by Chinese commercial interests, particularly Chinese dam-building consortiums.
| | |
| --- | --- |
| Tibetan Plateau Hydro Projects | Exploiting Tibet's Resources |
TIBETAN LAND SEIZED FOR CHINESE MIGRANTS
Chinese authorities forcibly take over land from five Tibetan nomadic villages in Qinghai province to make way for new dam projects
source: Radio Free Asia, May 1, 2012
Chinese authorities have forcibly grabbed land from five Tibetan nomadic villages in Qinghai province expected to be given to tens of thousands of new Chinese migrants, according to Tibetan residents. The new wave of migration would also result in the growth of a Chinese town fueled by construction of two hydro electricity projects, they said.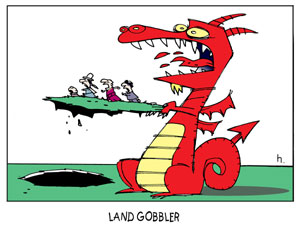 "On April 25, Chinese government officials convened a meeting of five nomadic villages in Gepasumbo (Tongde) county in Tsolho (Hainan) prefecture in Qinghai," according to a Tibetan in the Tibet Autonomous Region (TAR). "As a result of the meeting, the Tibetan residents of Setong, Dragmar, Seru, Machu and Goekar villages were forced to give up 60 per cent of their land and get rid of 54 percent of their animals within this year," the Tibetan said. The officials said animals will not be allowed to loiter on the land taken over by the government. The villagers were advised to reduce the number of animals by selling them to slaughter houses.
"During the meeting, the Tibetans from the five different villages unanimously refused to accept the Chinese proposal to take over their land," a Tibetan from Gepasumbo county said.
"The government officials returned to the county center later and 'forced' the Tibetan residents of the Setong, Dragmar and Seru villages to surrender all their land," the Tibetan said. "The Tibetan land taken by the Chinese authorities...is meant [to cater to] over 30,000 Chinese migrants. This, according to the local sources, could lead to the growth of a new Chinese town," a Tibetan from the area said. The authorities are also constructing two more hydro electric projects in the area which are expected to attract 100,000 Chinese migrants, the Tibetan from TAR said.
China's policy to relocate hundreds of thousands of Tibetan nomads from their ancestral grasslands into colonies of permanent urban dwellings is gathering pace and is being implemented especially vigorously in certain areas of Tibet, according to a report on the website of London-based Free Tibet, an advocacy group. "The policy is having a disastrous impact on Tibetan herders' ability to maintain their traditional livelihoods and on a distinctive form of Tibetan cultural identity," it said.
—Reported by Kunsang Tenzin for RFA's Tibetan service.
| | |
| --- | --- |
| | |
A rare victory for Tibetans from the region of Dzatoe, in Amdo. They managed to prevent a Chinese mining company from moving in and exploiting their land. Comic strip created by Tibet Action Institute, NY. Click to enlarge.