What's on the horizon in Tibet? Well, as far as the eye can see, reckless exploitation of Tibet's resources. Following the opening of the Golmud-Lhasa railway line in 2006, there has been a massive boom in mining operations on the Tibetan plateau—as well as a frenzy of dam-building. In fact, the railway was custom-built for those purposes.
In March 2010, the Chinese government announced plans for exploiting over 110 proven varieties of minerals (with 3,000 potential mining sites) on the Tibetan plateau, worth more than US$125 billion There are large reserves of copper, chromium, gold and lithium, to mention a few minerals, as well as large oil and gas reserves. Work is under way at hundreds of mining sites across the Tibetan plateau—a kind of gold rush frenzy, with little regard for safety or ethics. And little regard for impact on local Tibetan communities. And little or no regard for impact on the environment. This heralds serious danger: if heavy metals should leach into Tibet's rivers, pollution would carry all the way downstream into neighbouring nations like Laos, Burma, Vietnam and India.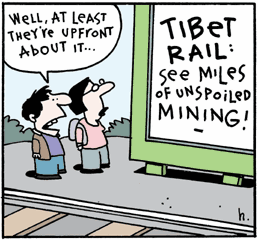 On top of this, significant dam construction has been implemented across the plateau. The hydropower may be exported to other parts of China, but some stays in Tibet. Mines need significant power to operate, and some dams are being built specifically to power mining operations. One example is Yulong Copper Mine in Chamdo, slated to become China's largest copper source. Under construction near Yulong on the upper Mekong River is Guoduo, a large dam with a capacity of 165 MW. Guoduo Dam is slated for completion in 2015 as the key power source for Yulong Copper Mine.
China wants the traditional grazing lands of the Tibetan nomads for dams and mining ventures, and is forcing nomads off these lands. Tibetan nomads have protested new mining operations, which poison drinking water and kill herd animals.
Mineral Resources of Tibet