CANADA'S DIRTY TRACK RECORD IN TIBET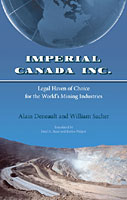 Imperial Canada Inc. sets out to seek answers to a simple question: why is Canada home to more than 70% of the world's mining companies? Obviously, the answers to that simple question can be upsetting to mining companies: the authors have been sued for millions of dollars by several Canadian mining companies in an effort to silence them.
Canada is the foreign nation with the greatest number of investments in Tibet, particularly in the railway and mining sectors. The following ventures have only become commercially viable through the operation of the railway from Golmud to Lhasa, starting up 2006.
These Canadian ventures completely avoid the topic of adopting a clearly stated human rights policy, and few of them adhere to their own stated positions on ethical business practices when in China. Nortel, for instance, states the following position on its website: "We strive to do the right thing for individuals, organizations, and society in general." Fine words, but Tibetans have absolutely no say in what is happening to Tibet's resources. The land area of Tibet is by law owned by the CCP (Chinese Communist Party), which enforces its decisions through its extensive military and paramilitary arms. A case in point is the forced re-settlement of Tibetan nomads to make way for mining and hydropower projects, done in full collusion with the foreign joint venture operations.
Corporations like Nortel and Bombardier should comply with the UN guidelines under its Global Compact, and the UN Principles for Responsible Investment. It would appear that none of the following listed companies would pass the grade for those UN guidelines, because they are operating well out of sight when in Tibet, without monitoring for standards. This is clearly a case of derailment of human rights issues when it comes to mining—which has significant potential for toxic dumping into Tibet's pristine rivers and lakes.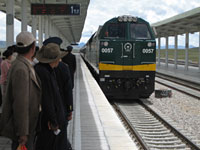 RAILWAY TO LHASA
Bombardier Inc (Montreal)—building special railcars for Golmud-Lhasa line. The locomotives, which can handle high-altitude conditions, are built by General Electric USA
Power Corp (Montreal)—building special railcars for Golmud-Lhasa line
Nortel (Montreal)—digital wireless communications network for the Golmud-Lhasa line
RailPartners (subsidiary of American company TGZ, but investors largely from Canada)—involved in high-end touring to Tibet, using luxury railcars built by Bombardier
MINING ON THE TIBETAN PLATEAU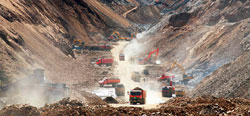 Mining at Gyama, central Tibet
There seems to be a recurring pattern for Canadian joint-venture mining operations on the Tibetan plateau. The joint-venture Chinese companies use Canadian company technical expertise for mining exploration and development. The Chinese government then stonewalls on permits to actually launch the mine (stonewalling can go on for years), and finally the Canadian company is bought out for low prices.
This is the case for Continental Minerals (Vancouver, gold mine exploration in Tibet), GobiMin (Toronto, copper-zinc project in Tibet), Sterling Group (Vancouver, lithium carbonate project in Tibet), and Inter-Citic (Toronto, gold exploration). In late 2010, Hunter Dickinson's subsidiary Continental Minerals announced the sale of its controversial central Tibet Shethongmon mine site to Chinese-owned Jinchuan Group. Tibetan rights groups have protested HDI/Continental Minerals' activities in Tibet at company shareholder meetings and investors' conferences.
In 2012, China's Western Mining Company bought out Inter-Citic Minerals (Markham, Ontario)—which conducted gold-exploration near Sanjiangyuan National Nature Reserve (SNNR), in a location formerly home to Tibetan nomads and their herds. The nomads were forcibly removed from the grasslands. While significant parts of Inter-Citic's exploration site were intended to be in the SNNR in 2004, by 2005 the boundaries were redrawn so exploration and mining could go ahead. This is expected to be the site of a major gold mine—the runoff of which will flow directly into the headwaters of the Yellow River.
It seems that the authorities in central Tibet don't like foreigners operating there. However, elsewhere on the Tibetan Plateau—in Qinghai, Gansu, Sichuan and Yunnan provinces—Chinese companies and government geological bureaus are more open to joint ventures with outsiders.
China Gold International Resources, headquartered in Vancouver, Canada, acquired the large mining site at Gyama (Jiama) in Medrokungar, northeast of Lhasa. China Gold International Resources is controlled by the state-owned enterprise China National Gold Group (CNGG), which has its senior people assigned their positions by the CCP. CNGG owns 40% of China Gold International Resources. Another 20% of the company is owned by the British Virgin Islands company Rapid Result Investment (RRI). RRI was set up by CCP officials from Beijing and Lhasa, obviously interested in off-shore accounts. That means that China Gold is 60% owned by the CCP. Essentially owned and controlled by the CCP but headquartered in Vancouver, China Gold is using the Canadian financial markets to raise money to exploit the already dire situation in Tibet. On March 29, 2013, a massive mud-rock avalanche buried 83 miners at a mountain location near Gyama.
Eldorado Gold Corp (Vancouver)—gold—or 'conflict gold'. As with the other gold-miners here, this qualifies for what the World Gold Council refers to as 'conflict gold'. Meaning that it is unethically mined, against the wishes of the indigenous people, the Tibetans—and thus should not be sold on the world market. Eldorado has a 90% stake in Tanjianshan Gold Mine in Qinghai.
Tri-River Ventures (Vancouver)—exploring for gold, copper lead and zinc. Their flagship Chinese operation is Lianlong Mine in Kandze, Sichuan, in the Three Parallel Rivers region (World Heritage Site). Tri-River Ventures is also involved in Kunteyi Salt Lake property in Qinghai, which is said to be in production.
DAM INSTRUMENTATION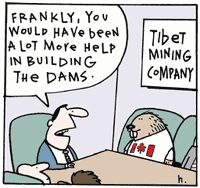 RocTest Ltd—This Quebec-based company has been involved in supplying geotechnical instruments used in the building of large dams on the Yalong River in Sichuan, southwest China. See Yalong River under the icon, River by River.
SC-Lavalin—this engineering company from Quebec was contracted to install Energy Management Systems, used to monitor and control the Sichuan province power transmission network.
Map of Canadian Joint-Venture Operations
on the Tibetan plateau: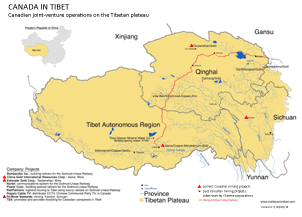 (click to enlarge)
EUROPEAN ROGUE'S GALLERY
Siemens Germany
In June 2010, China Southern Power Grid, in a joint-venture with Siemens Energy (Germany), announced the opening of a UHV 800kV transmission line around 1,500 km in length. This link takes power from several hydroelectric plants in Yunnan province and transporting the energy to Guangdong Province, with its megacities Guangzhou and Shenzhen. The UHV technology (which paves the way for further exploitation of hydro energy from the Tibetan plateau) has been initiated by Siemens Germany.
ELIN + JM VOITH AG, Austria
These two Austrian firms supplied four turbines as well as pumps and steering systems for the Yamdrok Tso project, widely considered to be an eco-disaster. ELIN supplied on-site engineers for the project. The contracts were worth over US$40 million. Both firms have a history of disregarding ethical questions: they were involved in Pak-Mun Dam (Thailand), Cirata Dam (Indonesia), and Mosul Dam in the Kurdish region of Iraq—where the military completely cleared the area of all residents.
FerroAtlantica, Spain
In a joint-venture with a Chinese company, FerroAtlantica is building the world's largest silicon metal factory, close to Kangding, in Ganzi TAP, on the Tibetan plateau. Silicon is the essential ingredient in computer chips. You need power to operate the largest silicon factory in the world: that power will most likely be sourced from a hydroelectric dam close by.
Rio Tinto, UK
Having determined that Tibet was too politically sensitive to handle, Rio Tinto set out to destroy Mongolia instead. The global mining behemoth is setting up shop in Mongolia, with a super-mine at Oyu Tolgoi (copper/gold), under development with Turquoise Hill Resources (headquartered in Vancouver, Canada, and previously known as Ivanhoe Mines). Oyu Tolgoi lies in the South Gobi Desert of Mongolia, 80 km north of Mongolia's border with the People's Republic of China, where the mined copper is expected to be shipped. This super-mine will most likely destroy the grasslands ecology of this region, decimating the livelihood of Mongolian nomads.
Shell, Anglo-Dutch company
Drilling for shale gas in Sichuan Basin. Signed a US$1-billion deal with China National Petroleum Corporation (CNPC, the parent company of PetroChina) in 2013 to develop shale gas in China. Shell's UK chief executive Peter Voser declared plans to be a "leading player" in the fast-growing global fracking business. Fracking, or hydraulic fracturing, is used to release oil and shale gas from rocks by blasting sand, chemicals and water into them. The practice is controversial because it has been linked to earthquakes and water pollution, but it has also enabled an energy revolution in the US, where new techniques have unleashed a wave of rock-based oil and gas. Shell has significant fracking operations in the US—and has encountered legions of protesters too. Globally, Shell has an abysmal environmental track record.
And talking of abysmal environmental track records, the following energy giants are interested in shale-gas and shale-oil extraction in China's far west: BP Amoco (UK-based), ExxonMobil (US-based), and French company Total.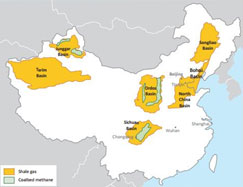 shale-gas deposits in China