Namgyal Lhamo

Tibetan opera singer Namgyal Lhamo sings "Lalami" in background for the opening sequence about Mount Kailash and lithium extraction from salt lakes. Namgyal Lhamo also plays the flute for the track. "Lalami" is a song from Amdo about the interdependence of all things. For the central Tibet sequence, Namgyal Lhamo appears again, singing "Aima Gangri," or "Ode to the Snow Mountains." Both tracks appear on Namgyal Lhamo's album Anthology of Tibetan Folk Songs (2012).

Known as the "Nightingale of Tibet," Namgyal Lhamo was a nightingale in a cage in Tibet. She stars in the movie Drapchi (directed by Arvind Iyer, India, 2012), which closely parallels her own horrific experiences in prison in Tibet. In the movie, Yiga Gyalnang (played by Namgyal Lhamo) is abducted one summer morning because she has dared to raise her voice in protest. She finds herself in near-complete isolation in an underground secret prison cell. After two years she breaks free and escapes to Nepal, and from there moves to the West, taking along her spirituality, her strength—and her Tibetan songs.
Gyuto Monks

The documentary features several short pieces by Western musicians that include throat-singing by the Gyuto Monks. The sequence about the Tsaidam Basin starts with a track by Chris Hinze where he recorded the Gyuto Monks at their monastery in Dharamsala, India. The cerebral throat-singing has a distinct low pitch. Gyuto Monks are also heard chanting a purification mantra at the end of the documentary in a track by Deva Premal. The above sound-clip is taken from the Deva Premal track "Purification," which appears on the album Tibetan Mantras for Troubled Times (2011).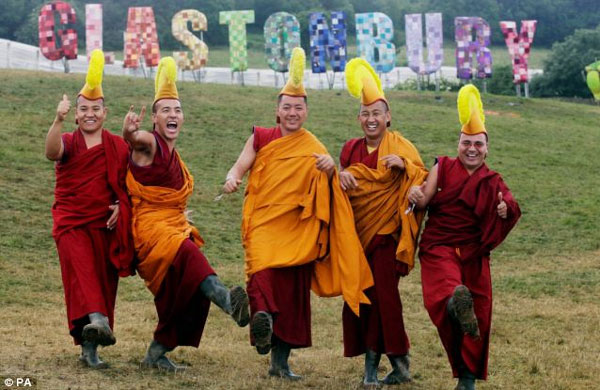 The oldest rockers in town: No, not the Stones, but the monks who've been singing for 600 years
Tibetan Singer Jailed for 'Anti-State' Activities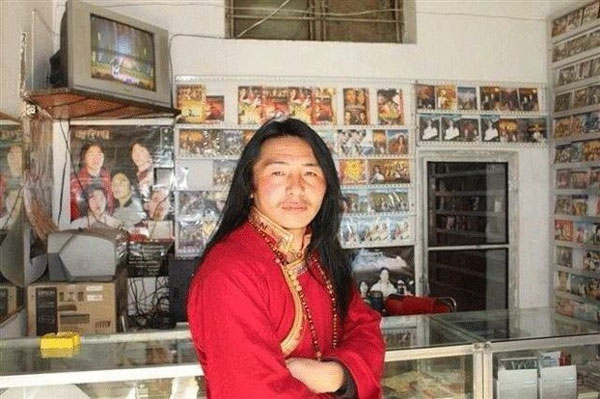 Photo courtesy of an RFA listener
In a secret proceeding, a court in northwestern China's Qinghai province has sentenced a popular Tibetan singer to five years in prison for publicizing the actions of a self-immolation protester and for performing songs with banned political themes, according to Tibetan sources. Shawo Tashi, 40, was handed his sentence by the People's Intermediate Court in Malho (in Chinese, Huangnan) Tibetan Autonomous Prefecture, a Tibetan living in Europe told RFA's Tibetan Service on Wednesday, citing contacts in the region.
The investigation against him was carried out in cooperation with authorities in Qinghai's Rebgong (Tongren) county, the scene of several self-immolation protests against Beijing's rule in Tibetan areas, including a Nov. 7, 2012 protest by a young mother, Tamdrin Tso, RFA's source said.
The singer was sentenced for "distributing photos of the self-immolator, copying her final statement on the photos, participating in a protest rally against the [Chinese] government, and singing songs about Tibetan nationality," the source said, speaking on condition of anonymity. Details of the precise charges made against Shawo Tashi and the date of his sentencing are still unknown, though he is believed now to be held in a jail in Qinghai's provincial capital Ziling (Xining), RFA's source said.
"His family members knew nothing of his whereabouts or health until recently, when they learned about his sentence," he said.
Shawo Tashi, "a talented singer from a young age," had released several recordings of his songs, RFA's source said, adding that one—"Faraway Father," a reference to Tibet's exiled spiritual leader the Dalai Lama—was very popular in the Tibetan community.
Musician detained after unity song
News of Shawo Tashi's jailing comes just after the detention by Chinese security officials in July of another Tibetan musician, according to sources in the region and in exile. Kalsang Yarphel, 38, was taken into custody in Tibet's regional capital Lhasa on July 14 and was flown under guard to Chengdu, in Sichuan province, for performing a song calling on Tibetans to "unite" and to learn and speak their own language.
Two sentenced over songs
Meanwhile, two Tibetan singers detained for nearly a year for distributing politically sensitive songs were handed two-year jail terms in June following a secret court hearing. Pema Trinley, 22, and Chakdor, 32, both natives of a nomadic settlement in Sichuan, were taken into custody in July 2012 in Machu county in Gansu province. They were detained "because of their release of a DVD that contained songs praising self-immolation protesters and the Dalai Lama," one source said.
China has jailed scores of Tibetan writers, artists, singers, and educators for asserting Tibetan national and cultural identity and language rights since widespread protests swept Tibetan areas in 2008.
A total of 121 Tibetans in China have also set themselves ablaze to date in protests challenging Beijing's policies and rule, with another six setting themselves on fire in India and Nepal.
—Reported by Kunsang Tenzin and Lumbum Tashi for RFA's Tibetan Service. Translated by Karma Dorjee. Written in English by Richard Finney.